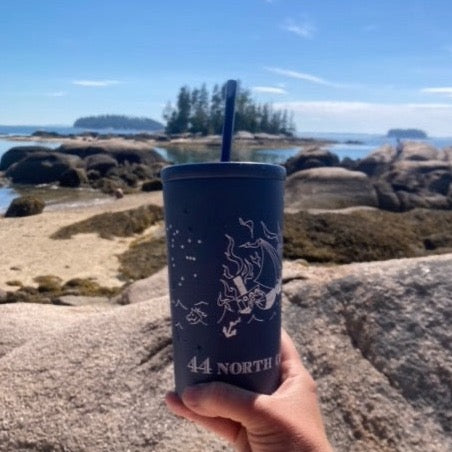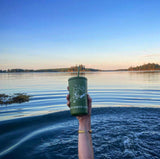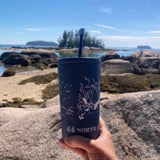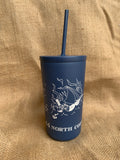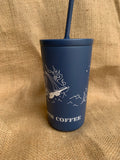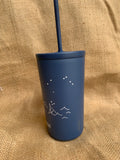 Created Co. Royal Tar Insulated Cold Cup with Straw
$26.00
Created Co. Cold Cup made of 18/8 stainless steel, and double-walled, with vacuum insulation to keep your hot drinks hot and your cold drinks cold. Made for specialty coffee with heart and style. Comes with a no sweat design, twist on lid with straw and anti-spill straw opening.

Matte navy blue with a line drawing of the story of Royal Tar. The tale goes that the circus ship, Royal Tar, caught fire mid-journey between New Brunswick, Canada and Portland, Maine, on October 25, 1836, right off the coast of Stonington. With smoke billowing from the boilers and flames shooting skyward, the ship's frenzied passengers began plunging into the icy waters. Aboard the 160-ft. Royal Tar were more than 90 people and a menagerie of circus animals including 2 big lions, a Bengal Tiger, camels, snakes and a beloved elephant named Mogul. Many perished, but as legend goes, some of the wild beasts swam to nearby islands where their descendants thrive today. Be on the lookout for them!
16 oz.




No sweat design




Twist-on lid with straw




Fits in your cup holder (promise)




Globally-minded and BPA free




Made for specialty coffee




Wash before your first use 




Don't microwave. Don't freeze. Otherwise? Have fun!