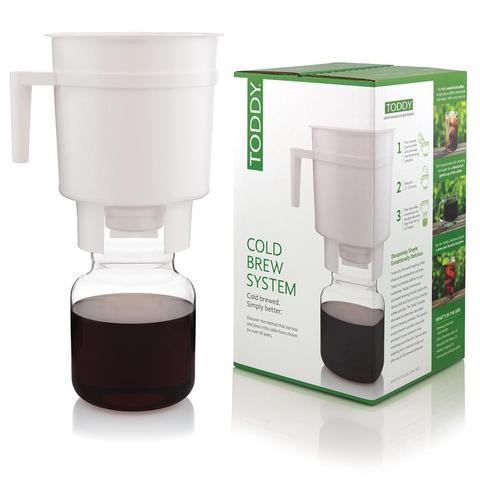 Toddy Cold Brew System
$40.00
Make delicious cold brew at home.
This Toddy Cold Brew System slowly drips (12-24 hrs.) a coffee concentrate that is lower in acidity and caffeine than drip brewed hot coffee. A great way to enjoy cold coffee that is easier on digestion on a warm day or year-round.
Cold brew can be stored in the refrigerator for up to 2 weeks.
The Toddy Cold Brew System contains:
Brewing Container with handle

Glass Carafe with lid

2 Reusable felt filters

1 Rubber stopper
Instructions for use & how to brew 
Need replacement Toddy filters or stoppers?
The Toddy Cold Brew System + Seasonal Cold Brew Blend contains:
All the above + a 12 oz bag of our deliciously chocolate-y Seasonal Cold Brew Blend, the ideal paring with your new Toddy System
Select Whole Bean or Ground coarse