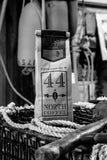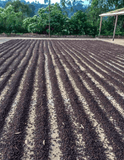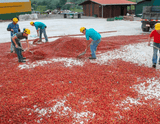 Stonecutter Series - Costa Rica Tarrazú Natural Microlot
$10.25
The Stonecutter Series is a rotating highlight coffee as an ode to the granite quarrying of Stonington and the Stonecutter memorial statue across from our Stonington Café. These beans are selected for their "je ne sais quoi" - unique small coffee producing region of the world, inventive processing method and / or out of this world flavor. Limited amounts available, changing frequently, and adorned with a beautiful gold & black sticker, take an adventure and grab a bag while supplies last.
We discovered this coffee because co-owner Melissa's husband brought her a bag as a gift that he found on his travels. Melissa instantly fell in love and saved her last cup for me (Hi, Alix - 44N Head Roaster here) to try. We knew instantly we had to highlight this coffee! Not only have we not had a Costa Rican coffee in quite some time, we just loved how beautifully balanced this cup is. It is exactly what you think of when you imagine a natural processed Costa Rican coffee (for those who are familiar). It has an incredibly smooth body and balanced notes of fruitiness, with a slightly boozy fermented note from the air-dried natural processing method.
The Tarrazú region of Costa Rica produces some of the best coffee on a consistent basis. Located in the country's interior mountains, with a minimum altitude of 1,200 meters, the best coffees from the Tarrazú area are known to be heavy-bodied with a complex aroma. Costa Rican coffees are pretty well-known and well-liked, typically of the coffee plant varietal Caturra and Catua, they are believed to have some of the best coffee flavor profiles in south/central America. Tarrazú, Costa Rican coffees regularly get great reviews and receive many awards. Tarrazú accounts for 25% of the country's total coffee production. 
We are partnering with Balzac Brothers, a specialty green bean coffee importer for over 100 years. Founded in 1917, Balzac Brothers is one of the country's top importers of green coffee. Their family has been supplying sustainable, specialty coffee for 4 generations. These beans come from CoopeTarrazú, a cooperative growing on 2 hectares of land. The cooperative prioritizes the welfare of its associates, their families, and communities by providing hands-on technical assistance. Harvest coincides with the region's dry season, which lasts from November to March, contributing to the coffee uniformity and also the natural process of being sun-dried for 2 weeks.

Tasting notes: Bourbon soaked cherries & cacao nib

Location: San José Costa Rica, Tarrazú region. Coffee growing altitude = 1,450-1,500 meters above sea level
Latitude: 9º North
Not organic

All bags come Whole Bean. For ground beans please select "Ground" and specify your brew method in the message box at checkout. Default grind is drip.

Not available for subscription due to limited quantity available.